Reviews and Thank You's ⭐️⭐️⭐️⭐️⭐️
We love getting thank you notes from our customers and are always grateful when they take the time to write a review about us.
Wedding Wire Couple's Choice Award Winner
We have won Wedding Wire's Couple's Choice every year 5 years in a row!  Must be all that aloha we bake into every single cake. 🙂

Read all of our
Wedding Cake Reviews
at
Thank You's via Email
4-11-14
Aloha Cheryl,
Just wanted to let you know that the cake was really beautiful and delicious.  Thank you again.
Luis & Wendy
__________________________________
Wedding on February 5 at Olowalu:  2-19-14
Aloha!   I just wanted to thank you for the marvellous cupcakes and wedding cake for my daughters wedding at Olowalu on February 5.  Everyone raved about how delicious they were and so flavourful.  The cookies were also a great hit with the attendees and they were amazed at the detail on each one.  We were overjoyed with the delicacies.
Mahalo, Elaine
_________________________________________________
10-05-13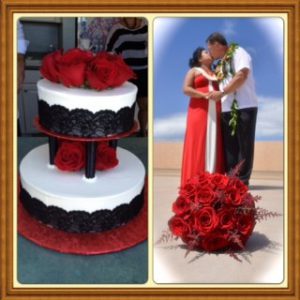 Aloha Casey and Cheryl,
Lonnie and I would like to say THANK YOU for a job well done!  Without even seeing my bouquet you have matched it perfectly…   Our Wedding was everything we had expected and more…  Our guests loved the cake!!!
Looking forward to our Anniversary cake… We have your number saved.
Thank you again,
Lonnie and Wanda
____________________________________________________
10-01-2013
Thank you so much for contributing to making our day just perfect! From ordering, paying to delivery so uncomplicated …. and the cake was beyond beautiful and tasteful. The restaurant did such an excellent job serving it too. Every guest had both cake and flowers on their plates – so beautiful. We will recommend you to everyone, including our Danish travel agent….
Thanks – Mahalo, Steen & Jeanett
Denmark
____________________________________________________
9-21-2013  Aloha Cheryl,
I want to thank you again for the amazing job you did on our cake. It was the best cake I've ever seen and my husband was so surprised. Everyone in the restaurant wanted to know where it came from – from the manager the waitress the bartender the busboys customers their own pastry chef…. Absolutely everybody was in shock how amazing the cake was. Not only did it look better than I could've ever dreamed of but it tasted delicious. I hope that we were able to generate more business for you because you guys are amazing. Thank you again for providing us with the best cake ever for our special day.
Aloha, Tamara
___________________________________________________
9-14-2013    Hi Cheryl,
I just wanted to let you know how happy we were with the cakes and the guest favours! The cakes were absolutely amazing. Hands down the BEST wedding cake I have ever tasted. I had 3 pieces on the wedding! And we just finished a piece of the pineapple cake and it was just delicious. Even the birds on the deck wanted some 🙂 The food was the most important thing for me for the wedding and we were just so happy with you guys. And everyone at the wedding agreed! And thank you for delivering that pineapple cake to us yesterday. It would have been a shame to miss out on such a delicious cake! So thanks so much!!!! 🙂
P.S…..the favours were a huge hit too, they were beautiful and delicious!
Sunny & Sean
____________________________________________________
9-14-2013     Good morning Cheryl,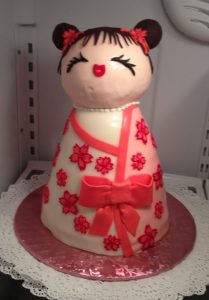 Mahalo for such a beautiful cake! Everyone gave so many wonderful compliments even though they didn't get to eat it at the party. It was too cute to "deconstruct, but I finally let our daughter devour it yesterday & boy
did she have fun! I don't usually give her sugary stuff, so this was really a happy birthday for her. We all got to eat some of & it was ono!
Mahalo for making the cake how I wanted it to be & for being so patient & cooperative. I'm so happy I chose to have it delivered too because I was under too much stress. I wish I was able to meet you in person, but the day of party I was trying to be in so many places at the same time, it was just impossible.
Anyway, I will keep you in mind for future business. Have a great day & mahalo again!
Jayna 🙂
_____________________________________________________
9-08-2013
Maui Wedding Cake (best I've EVER had- #S-1 shell design. Chocolate with Tahitian vanilla filling and white chocolate buttercream frosting. Every one STILL raving. Wish we could pack it on the palace to Kauai. We still dream of it. Yep, it was THAT good. AND prettier than the pictures could show. The white chocolate shells were to die for!
_____________________________________________________
7-02-2013
Hi Cheryl!
I just wanted to let you know how much we enjoyed the wedding cake that you made for us. I have to say that it was the best wedding cake I have ever had! Not sure how you made it so light and fluffy, but it was awesome! I can't thank you enough!
Deanna
_____________________________________________________
7-04-2013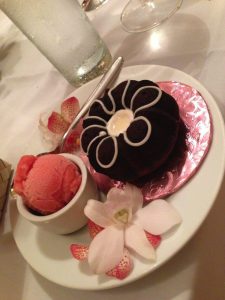 Merriman's Kapalua
I wanted to send you a BIG Mahalo for our special healthy vegan Bundt Cakes!!!
They were absolutely delicious and the presentation was beautiful.
I can't tell you how important it was to our wedding to have such a fabulous healthy dessert.
Aloha! Kristin
_____________________________________________________
4-02-2013
Cheryl,   I just wanted to drop you a note and say a big THANK YOU for our wedding cake/cupcakes – the presentation, and more so the taste, was just divine! I could not believe my eyes when we walked into Sarento's and saw the arrangement, and to be honest, I think its one of the best I've ever seen! Looked like it came straight out of a magazine! I hope you took a photo for your own reference for you to pop up on your website/Facebook page, because I am certain anyone considering using Maui Wedding Cakes as their wedding cake will definitely do so after seeing the effort you had put into ours!
Jason and I were lucky enough to take most of the Chocolate cake home for ourselves after the wedding, and we devoured that (especially Jason) over the course of our stay in Maui! It was incredibly delicious
Thank you once again, Jason and Anastasia Horenci
_____________________________________________________