Welcome to Maui Wedding Cakes, a Family Business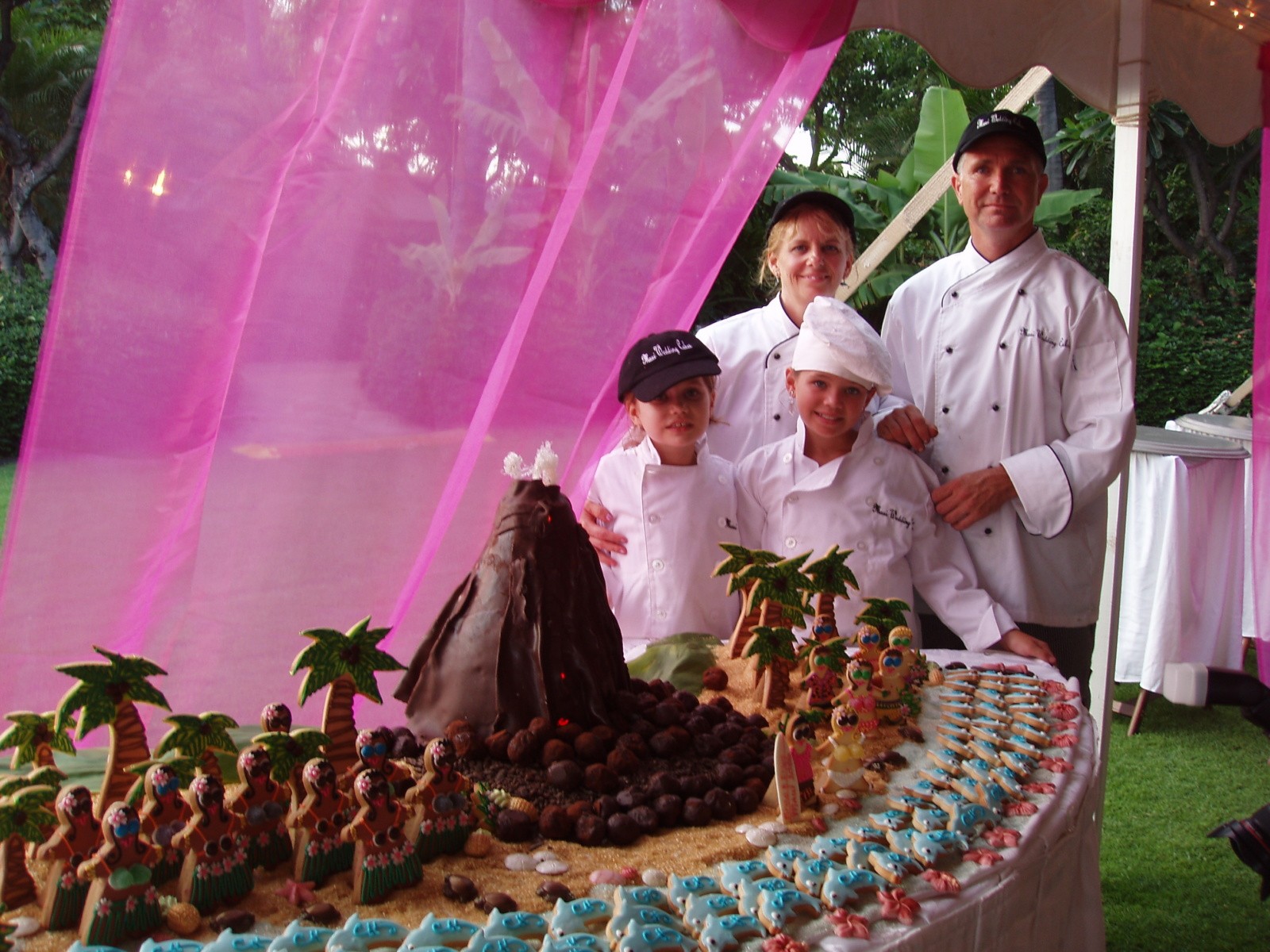 The Maui Wedding Cakes family consists of Award-winning Pastry Chef Casey A. Logsdon, his wife, award-winning cake designer and artist Cheryl Logsdon, their three children, Connor, Clarissa and Cariann and Delivery Driver Extroadinaire, George, Cheryl's brother.    We are very much a family business and everyone does their part!
Casey, born and raised in Hawaii, is one of Maui's best known Pastry Chefs.  He started as the Pastry Chef at Kapalua Bay Hotel in the 80's, then joined the opening team of Roy's Restaurant in Kahana in the 90's.  He became famous there for creating Roy's ledgendary Chocolate Souffle, and is credited in Roy's first cookbook for it.  He left Roy's in 1996 to start our first company Casey's Bakehouse.  We ran the bakery for four years, and still run into old customers pining for his Sourdough Bread and Dried Cranberry Scones.  After 30,000 wedding cakes and 25 years in the business, Casey is a Master Wedding Cake Pastry Chef.
Cheryl came to Maui in 1985 from Connecticut and met Casey on Canoe Beach in Lahaina in Spring of 1986.  They married three years later on the spot where they met.  A Graphic Artist by trade, Cheryl spent a decade studying color and design principles at Maui's Hui No'eau under Dick Nelson.  After launching Casey's Bakehouse the transition into Cookie and Wedding Cake decorating came naturally.  As an artist she has been featured in galleries, in the prestigious juried show Art Maui.
The Maui Wedding Cakes kids have grown up in the business.  Connor, 23, is a massage therapist and assists his dad in the bakery baking slicing and filling cakes.  Clarissa, now 20, is attending the University of Hawaii Maui Campus for the Culinary Program, and eagerly soaks up her dad's expertise.  Cariann, 16, has inherited dish duty from Connor, and also makes some of the Chocolate Favors we offer.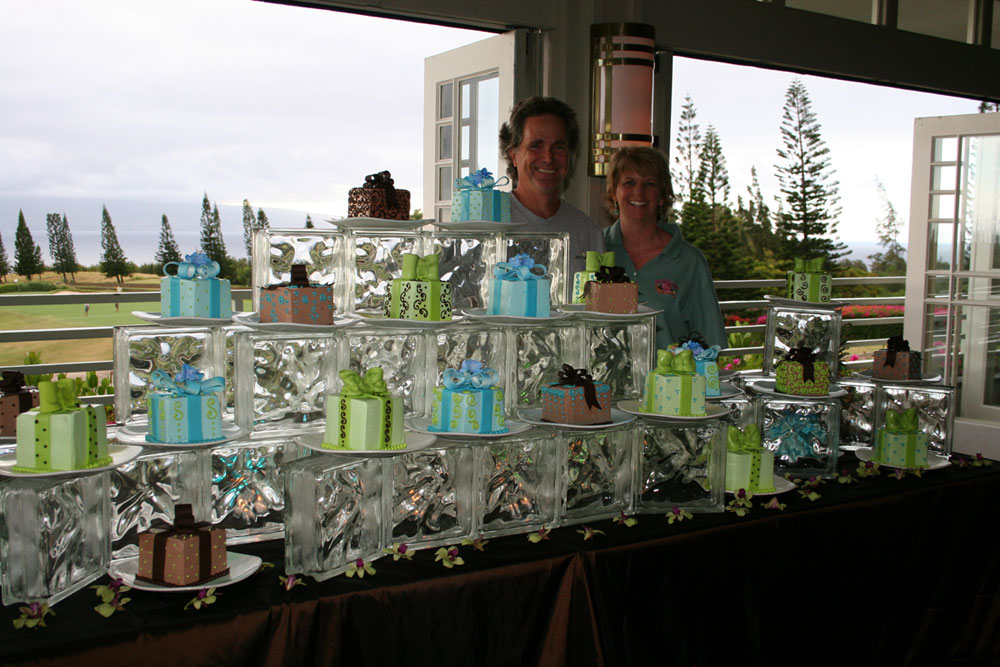 The other members of the team include "Uncle George"  who bravely fords the twisty turny roads of Maui to deliver your treasured cake creation. He is visited daily (as he lives right next door) by our Company Mascot – Rosie – the fat Beagle who needs to have her teeth cleaned regulary as she sneaks in to find any stray cake crumbs on the bakery floor.  If you come by our commercial kitchen in North Kihei, and she isn't napping, she may howl a hello.  But have no fear – one scratch on the back and she will be your best friend forever.  Completing the melange is Occie, the most handsome cat on the planet.  If he is present when you come by, you may show your adulation.
Aside from making wedding cakes, the whole family has a long tradition of Hawaiian Outrigger Canoe paddling. Casey has his doves and hundreds of other birds for his other hobby.  Cheryl is a painter and avid poker player, and the kids all have active lives.  We are a busy happy bunch!
Many years ago we made the girls act as "cake toppers" on a "live" wedding cake a Wedding Expo at the mall.
Clarissa insisted on being the "bride" so she could wear her princess outfit. Cariann was NOT amused!