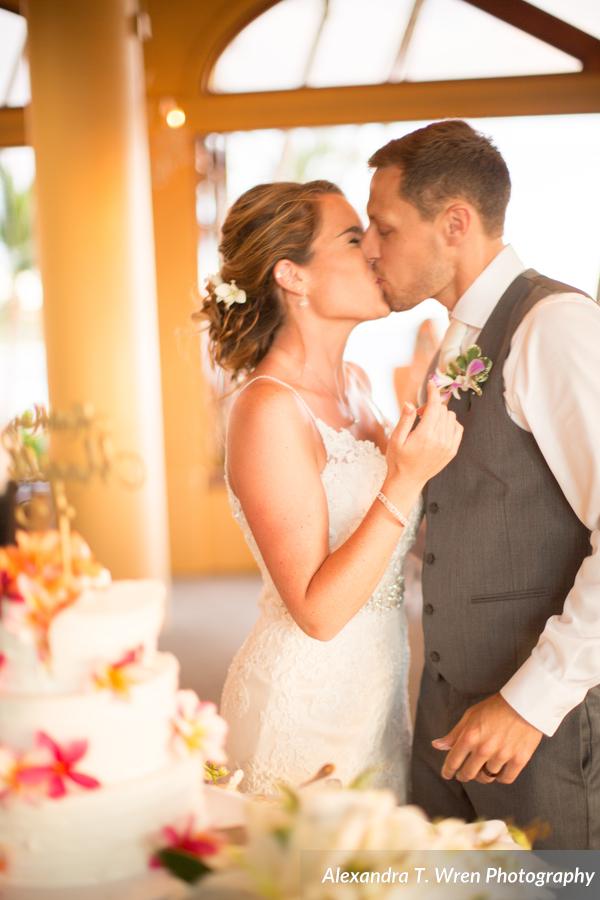 Cake Flavors, Fillings and Frosting
If you would like some help making decisions on flavors or fillings let us know on our request for quote form.  We also have some popular combinations that our customers rave about on our Cake Faves page.
Step 1:  Choose A Cake Body for Each Tier
Step 2: Choose a Filling / Flavor for Each Tier
Step 3: Choose an Icing
Step 4: Choose the Style of your cake from our galleries or send us your ideas.
Step 5: Complete our Request for Quote Form and let the magic begin!
The Cake Body
We use a traditional Sponge cake recipe for the cake body.  Over years of research and development we have found that our sponge cake is the perfect texture to go with our whipped cream based fillings and has a great ability to withstand the rigors of wedding cake construction and transportation.
All of our cakes are made with fresh cream, butter and locally sourced ingredients when possible. And they are all made with Aloha!
We can also make gluten free cakes upon request.   Cheesecake and Pineapple Upside Down Cakes are also available.
Traditional Cake Flavors
Vanilla
Chocolate
Marble (chocolate and vanilla swirl)
Specialty Cake Flavors
We can make other cake body flavors upon request, however, we do not make other people's recipes.  Specialty cake types are a bit more per cake layer.
Red Velvet – Goes great with cream cheese frosting!
Carrot Cake – Made with dried cranberries and NO nuts unless you request them.  Traditionally served with a cream cheese filling, although it can be served with other fillings.
Gluten Free – Available in Chocolate or Vanilla
Fillings & Flavorings
While all of our cakes require a filling, at the least some thin layers of buttercream icing which can be considered the "traditional" style of wedding cake filling, we consider our basic whipped fillings to be a preferable choice. Our Whipped Cream Custard is light and fluffy like whipped cream, it is not like pudding.  All of our Mousses are also fluffy and not overly sweet.  You can start with any of these fillings and add additional flavorings if you like. You can order different combinations of flavors for your different tiers at no extra charge.  Keep in mind that some guests will want to try all the flavors – you might need more cake!
Traditional Cake Fillings
Vanilla Whip Cream Custard
Vanilla Whip Cream Custard with a layer of Raspberry
Vanilla Whip Cream Custard with a layer of Logsdon Lilikoi – Passionfruit, our signature flavor and hands down our most popular. It is light, refreshing and tropical. A bit tart like lemon, it is best with vanilla cake.
Whipped Cream (cake cannot stay out as long when filled with pure whipped cream)
Chocolate Mousse
Chocolate Mousse with a layer of Raspberry
Mocha Mousse
Raspberry Mousse – a little bit sweeter than the others.
Strawberry Mousse  – with strawberry blended into the Vanilla mousse which turns it pink.
Chocolate Truffle – an extra chocolaty filling – good with white cake.
Specialty Cake Fillings
These carry an extra charge from $5 to $15 per tier, depending upon size.
Banana Cream – Made with chunks of fresh banana.
Coconut Cream – Made with coconut flakes.
Vanilla Macadamia Nut Mousse – Made with little bits of Maui macadamia nuts.
Chocolate Macadamia Nut Mousse  – Made with little bits of Maui macadamia nuts.
White Chocolate Mousse – A little bit sweeter than the others.
Tahitian Vanilla Mousse – Made with the scrapings of real Tahitian Vanilla Beans, and something magical that Casey does, which he won't tell us about. 🙂
Cream Cheese – Sweet, rich and delicious with a hint of vanilla. Perfect for Red Velvet and Carrot cakes.
Whipped Chocolate Ganache – Dense and very chocolately.
Buttercream Filling
Vanilla
Chocolate
Mocha
Raspberry
Orange
Lemon
Specialty Flavors & Fruit
These carry an extra charge from $5 to $15 per tier, depending upon size
Pineapple – crushed
Guava – a juice concentrate gelee layered on top of our whipped custard
Lemon – a flavoring on the cake body or icing.
Strawberries  – Diced berries.
Fresh Raspberries or other fresh fruits – seasonal
The Icing
Before the decorations go on, you might want some icing (or frosting) on your cake.  Or you can opt for a beautiful (and trendy!) naked cake.  Many brides and grooms are holding back frosting from wedding cakes for an exposed look that is popular with couples looking for a traditional wedding cake alternative. Check out our gallery for some of our naked cakes.   
If frosting is your thing, then you have some delicious choices to make from the lists below.
Italian Buttercream
Our Buttercream icing is light and fluffy and NOT too sweet. Many brides have mistaken it for whip cream at their taste testings. Real buttercream icing is not like that horrible stuff they put on supermarket cakes or discount wholesale cakes (like Costco). That stuff comes out of a bucket and is grainy and painfully sweet, and does not deserve to be called buttercream. It is also loaded with chemicals and preservatives. Yuck. Ours is made with whipped egg whites (meringue), boiled sugar and real butter. We add a touch of shortening so it will hold up in the tropical heat. Your buttercream cake can sit out and be admired for up to 2 hours or so. Casey has a great deal of skill with buttercream. He can get quite a smooth finish, although they will have sharp edges and require some type of piping at the base.
Flavors:
Vanilla Italian Buttercream
Chocolate Italian Butetrcream – Has a mocha color to it, unlike the dark chocolate look of our ganache frosting.
White Chocolate Buttercream
Ganache
Ganache is a liquid pour of dark chocolate. The cake is iced in buttercream first to make it smooth and flat. The ganache is heated up to a liquid state (like hot fudge on a sundae) and poured over your cake. It is divine. Many couples are going for chocolate cakes today, and we have many options and styles that are just as elegant as white cakes. Check out our gallery of ganache covered cakes.
Marzipan
Marzipan is a confection consisting primarily of sugar and almond meal (ground almonds), sometimes augmented with almond oil or extract. It can be used to cover a cake similar to fondant and for hand sculpted edible decorations.  This is a special order item and is subject to availability.
Fondant
Many of the cakes you see featured in magazines are covered in Fondant. Nothing else looks quite like it. It gives a smooth flawless matte finish with rounded edges. It can be draped, painted on and tinted among other things. Some cakes require Fondant to achieve their special look, some can be translated into buttercream. It is like a sugar play dough, rolled out in sheets and spread over the cakes. It is tricky and time consuming to work with, and adds quite a bit of cost to the cake. All of our fondant cakes are covered in a thin layer of buttercream first, so that great flavor is there. Fondant itself has a bland vanilla taste, some people love it, and some don't care for it and will peel it off of their portion. We use a very high quality Swiss fondant that tastes good.
Rolled White Fondant – a slightly off-white piano key ivory
Rolled White Chocolate Fondant – has a yellow tinge to it and is a special order.
Rolled Chocolate Fondant – has a milk chocolate color and is a special order.
Whipped Cream
We can use 100% pure whipping cream, and it is delicious, but does not look as nice as buttercream, does not go on as smoothly, and will start to melt in about 10 Maui minutes. We are happy to ice your cake in whipped cream if you prefer it, but wanted to make sure you know it's limitations.  A whipped cream frosted cake can only sit out a short time before it gets melty.  You'll need to set it out, say "ah", snap pic, slice and serve.
Cheesecake
Yes we do Cheesecake wedding cakes! They are a real showstopper, and become their own "happening" when pre-cut for self service. We ice the tiers after they are cut, so they look whole, but your guests can easily slide out their own piece and dress it with sauces or fresh fruits. Casey's cheesecake is a true New York style – baked in a water bath – dense and creamy. Yum!  We can also offer a platter of fresh Island fruits – seasonal selections.
Cheesecake Flavors: Vanilla, Chocolate, others upon request
Cheesecake Sauces: Chocolate, Caramel, Strawberry, Blueberry, Raspberry, Pineapple
Pineapple Upside Down Cake
For a real island treat, try a PUD cake! Best served as separate tiers to show off their beautiful golden brown pineapple rings. These cakes look elegant when arranged on our ascending cake stand, with buttercream accents on the side and orchids scattered around.
Delivery & Set Up
Do you need your cake delivered 🚚 and set up?
Cake Size & Serving
Do you need help deciding how much cake 🍰 you need and how to serve it?
Ordering & Payment
More info on ordering and making payment for your cake. 🥂
Request A Quote
The ✨magic✨ happens when you tell us about your dream cake on our request form.